Setelah saya sharing bagaimana cara menginstall control panel gratisan seperti webuzo dan kloxoMR.
kali ini saya akan share bagaimana cara menginstall vestaCP. salah satu kelebihan dari control panel ini dibanding kompetitornya adalah sudah support bahasa indonesia.
wah keren! ini memudahkan anda yang belum terbiasa dengan bahasa inggris dalam memanajemen control panel gratisan.
bagi saya pribadi ini sudah pukulan telak untuk kompetitor seperti kloxoMR yang notabene pengembangnya berasal dari indonesia, apalagi setelah instalasi saya menemui beberapa error/bugs.
berikut ini beberapa bahasa yang sudah disupport oleh vestaCP
english, french, german, dutch, norwegian, finnish, swedish, spanish, portuguese, italian, greek, chinese, taiwanese mandarin, indonesian, romanian, bosnian, czech, hungarian, ukrainian, russian, turkish, arabic
dan jika dibandingkan dengan webuzo, kelebihan yang pertama saya lihat adalah fitur package yang dimana fitur ini sangat cocok untuk anda yang menggunakan VPS yang terbatas bandwidth-nya (tidak unmetered/unlimited)
kekurangan dari vestaCP dibanding webuzo yang paling mencolok adalah tidak adanya fitur auto-install seperti webuzo seperti install CMS wordpress, prestashop dan sejenisnya
kekurangan dari vestaCP
apapun jenis control panel opensource pasti memiliki kekurangan, VestaCP sendiri memiliki kekurangan untuk memanage data website anda (tidak memiliki filemanager) ataupun aplikasi interface pengelola email seperti squirrelmail ataupun roundcube. jadi anda yang belum terbiasa me-manage sendiri. ini bisa jadi bahan pertimbangan anda menggunakan VestaCP.
mari kita lanjut cara installnya
Cara Install VestaCP Control Panel
pertama mari kita install screen
yum install screen -y

buat screen-nya
screen -S install_vestacp

Download script installer vestaCP
curl -O http://vestacp.com/pub/vst-install.sh

lalu jalankan script tersebut dengan cara
bash vst-install.sh

lalu anda akan mendapatkan prompt seperti dibawah ini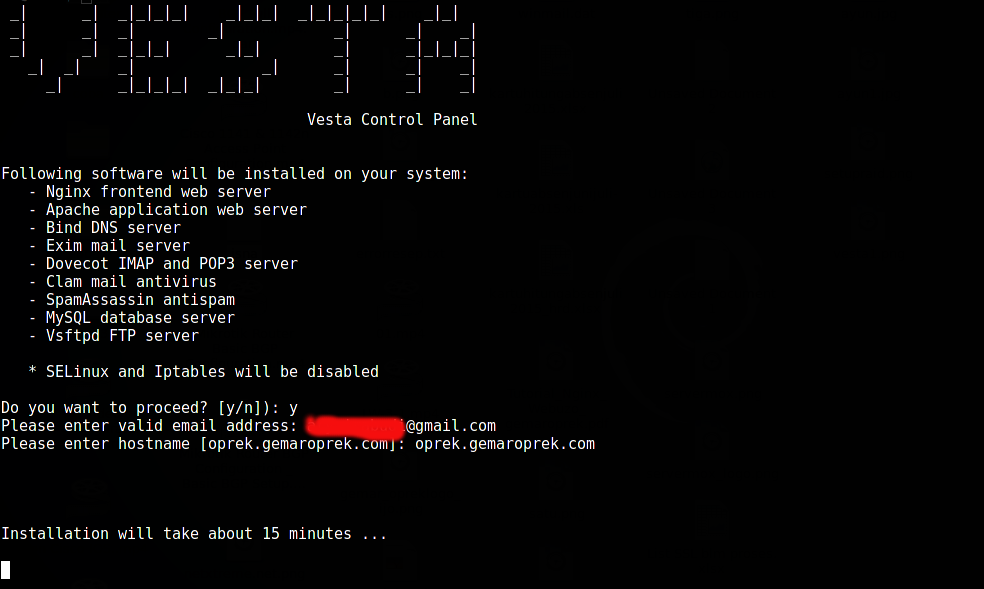 hasil instalasi akan seperti dibawah ini
Congratulations, you have just successfully installed Vesta Control Panel

    https://yourip/domain:8083
    username: admin
    password: yourchoosepassword

We hope that you enjoy your installation of Vesta. Please feel free to contact us anytime if you have any questions.
Thank you.

Tutorial selanjutnya?
saat ini saya sharing soal instalasinya saja. mengenai tutorial selanjut tergantung request dari pembaca gemaroprek.
Selamat mencoba artikel Cara Install VestaCP Control Panel 🙂